Welcome to our General Assembly page! We hope it helps you, if you already have a connection with EuNC, to find out where we are and how we can connect together while you are at the assembly. If you are just now finding out about EuNC, we hope you can find the information you are looking for and also we would love to connect with you as well! We hope you have a great time at General Assembly and look forward to meeting you!
Welcome from our Rector
Mária Gusztinné Tulipán
We asked some of our students to answer one or more of the following questions:
Tell how your time at EuNC has transformed your personal life.
Give examples of how your time at EuNC has impacted your ministry.
Tell how your time at EuNC has helped you grow in your Christian faith.
Give an example of something you learned or a special time in class that was exceptionally meaningful to you.
What does EuNC mean for your ministry, personal life, or Christian walk?
See how they responded in their native language or the language of their Learning Centre.
Julinda Ndreka (Albanian)
Albania/Kosova Learning Centre
Roza Vardanyan (Armenian)
Armenia Learning Centre
Hiba al Fakhouri (Arabic)
Arabic Learning Centre
Fouad el Salibi (English)
EuNC Digital Campus
Tabea Cole (German)
Germany Learning Centre
Hans Bleeker (Dutch)
the Netherlands Learning Centre
Robert Galic (Croatian)
Croatia Learning Centre
Samuel Salvanés López (Spanish)
Spain Learning Centre
European Nazarene College, e.V. - abbreviated as EuNC.
 The e.V. is an abbreviation for "eingetragener Verein" which is the type of organization EuNC is registered under in the German government.  
Founded in 1965 in
Büsingen, Germany.
Enabling Christlike Disciples for Ministry
The college began as a vision in 1963 in the minds and hearts of Jerald Johnson, serving in Germany, and Bob Cerrato, of Italy. The vision was to serve continental Europe by training persons for ministry. A building was found in a little German village surrounded by Switzerland, the village of Büsingen. The mandate of the college was to be international in scope, with English as the medium of instruction, and to prepare persons for ordination and Christian service. The school was called European Nazarene Bible College (ENBC) and was established in 1965 with Rev. John B. Nielson as its first rector; classes began on 10 January 1966.
Throughout its existence, the college has stayed focused on fulfilling its original purpose. In 1977, the school affiliated itself with MidAmerica Nazarene University (MNU), through which it was able to offer a fully accredited Bachelor of Arts degree. In the early 1990's, as an immediate result of the fall of Communism and the lifting of the Iron Curtain, the school started theological education by extension and, through this, expanded its mission to include many students from various countries who were not able to study at the campus in Büsingen and/or study in the English language. In 2001, the name was changed to European Nazarene College (EuNC). This change had been several years in coming, and it was accepted in the hope that the new name would reflect the institution's educational profile more accurately.
Realizing that the rapidly changing environment in the countries that EuNC serves demanded a drastic review of the way it provided theological education for ministry, the school started a 7-year self-change project in autumn 2004. In January 2006, the Board of Trustees accepted the new strategy Moving Forward that emerged out of this project. The strategy reaffirmed the mission and vision statement of EuNC and outlined the organizational priorities for the future of being "one multicultural and multinational school with one campus and administrative centre and many teaching locations in various European and CIS countries" and aiming at "a high mobility of faculty and students between the campus and the various locations, with the goal of exposing them to the best of residential and extension education."
In the following years EuNC implemented the Moving Forward strategy. The college adapted its academic and administrative structures to better support a multi-site school with one overall faculty and student network, living and studying in different countries, and one curriculum with room for contextualization within the various cultures in Eurasia. In 2007-08 a new contextualized outcomes-based curriculum was launched. That same year, the college also adopted the European Credit Transfer and Accumulation System (ECTS).
During the final years of the timeline of the strategic plan, in 2010-11, the college found itself in a different position than anticipated, even though all objectives had been realized. EuNC was confronted with unforeseen developments such as a significant drop of student enrolment at the campus, challenges in accrediting all learning centres through the existing affiliate relationship with MNU and decreased financial and personnel resources. In response to these challenges, EuNC decided to close the residential programme in the summer of 2011 and fully concentrate on the learning centres of the college. The sale of the campus property was completed in 2015. EuNC has fully become one school in many nations with learning centres in different countries and a general administration to fulfil the mission of the college. The Vision 2020 strategic plan was developed in response to this emphasis.
In addition to these changes, in November 2012, the college received its initial accreditation from the European Council for Theological Education (ECTE) for the Certificate in Spiritual Formation (60 ECTS) and the Diploma in Christian Ministry (120 ECTS). The accreditation for the Advanced Diploma in Applied Theology (180 ECTS), comparable to a Vocational Bachelor of Theology, was received in April 2020.
Books about the College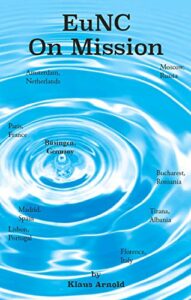 EuNC on Mission, by Dr. Klaus Arnold, Nazarene Publishing House/the Foundry Publishing, ©2021.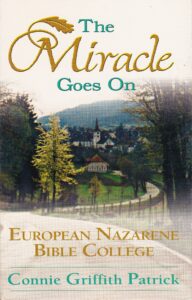 The Miracle Goes On: European Nazarene Bible College, by Connie Griffith Patrick, Nazarene Publishing House, ©2000.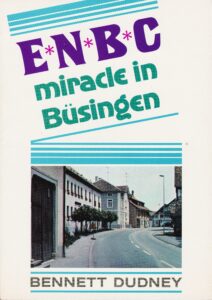 E*N*B*C Miracle in Büsingen, by Bennett Dudney, Nazarene Publishing House, ©1980.
European Nazarene College obtained its institutional accreditation from the European Council for Theological Education (ECTE) as an alternative provider of higher education in 2012. Three programmes have been accredited by ECTE:
Certificate in Spiritual Formation [60 ECTS] (accredited since 2012) - EQF1 Level 5 (partial)
Diploma in Christian Ministry [120 ECTS] (accredited since 2012): EQF1 Level 5 – this is our base ordination track.
Advanced Diploma in Applied Theology [180 ECTS] (accredited since 2020): EQF1 Level 6
1 EQF = European Quality Framework
ECTE accreditation of alternative providers of higher education indicates that the learning opportunities offered by European Nazarene College are compliant with the European Standards and Guidelines for higher education and attests to the level of the learning opportunities according to the European Quality Framework. While this accreditation provides affirmation of the level and quality of the programmes, ECTE does not grant degrees and so these are not officially recognized degrees of the German educational system.
1 ECTS = 30 learning hours.
The mission of EuNC is theological education for clergy development and lay education . Our Learning Centres may offer short courses beyond the accredited programmes to a wider circle of people to  provide educational services to the church in the areas of lay training, discipleship, ministerial (e.g. lifelong learning) and personal development.
EuNC is one of the 51 IBOE (International Board of Education) schools of the Church of the Nazarene with a validated Curriculum for Ordained Ministry. The Diploma in Christian Ministry of European Nazarene College has been approved by the International Course of Study Advisory Committee (ICOSAC) of the Church of the Nazarene as the programme that fulfils the minimum academic requirements for ordained ministry within the districts of the Church of the Nazarene. Each district has clearly defined ordination academic requirements that either follow the minimum requirements or exceed these established by ICOSAC. Some districts require the ADAT programme or have additional coursework to complete the minimum academic requirements for ordination.
EuNC is fully decentralized, multinational, and multicultural, with a common general administration and many different learning centres. It is an educational network composed of faculty members and administrators who live and minister in many different countries, and students who study part-time in one of the learning centres. EuNC is one school with a core curriculum, one faculty, and one student body, with both distance and on-site learning delivery modes. We embrace the fact that we are multinational which is reflected in the organizational structure, the governance, and the administration of the college. We serve primarily the churches where we have established learning centres. EuNC offers its programmes in the languages of the countries. The curriculum is adjusted to each cultural context where the college is at work.
Our students are all part-time in their studies. Most of them are actively involved in ministry in some capacity, some already as lead pastors. They are doing their studies on top of these ministries and also are often managing family responsibilities and full-time jobs. The economic system varies greatly between our learning centres and the EuNC tuition is adjusted based on the student's ability to pay in that country.
Our faculty live and minister in many different countries, teaching for us part-time, while maintaining their skills and knowledge  through various faculty development activities. Below are some of the works published by our faculty.
Cereda, Giovanni
L'opera dello Spirito Santo nella santificazione del credente. La pneumatologia di John Wesley. Edizioni Ex Libris, 2012.
Culbertson, Howard
Discovering Missions, Beacon Hill Press, 2007.
The Kingdom Strikes Back: Signs of the Messiah at Work, Nazarene Publishing House, 1990.
Alfredo and His Impossible Dream, Nazarene Publishing House, 1980.
Rookie Notebook: My First Nine Months as a Missionary, , Nazarene Publishing House, 1976.
Druzhinina, Olga
The Ecclesiology of St. Basil the Great: A Trinitarian Approach to the Life of the Church. Pickwick Publications, 2016.
Flemming, Dean
Foretaste of the Future: Reading Revelation in Light of God's Mission. Downers Grove, IL: IVP Academic, 2022.
Self-giving Love: The Book of Philippians. Transformative Word. Bellingham, WA: Lexham Press, 2021.
Why Mission? Nashville: Abingdon, 2015.
Recovering the Full Mission of God: A Biblical Perspective on Being, Doing and Telling. Downers Grove, IL: IVP Academic, 2013.
Philippians: A Commentary in the Wesleyan Tradition. New Beacon Bible Commentaries. Kansas City, MO: Beacon Hill, 2009.
Contextualization in the New Testament: Patterns for Theology and Mission. Downers Grove, IL/Leicester, UK: InterVarsity Press/Apollos, 2005.
Palmer, Chris
The Emergence of Pentecostalism in Wales. Apostolos Publishing Ltd., 2016.
Essential Christian Leadership. Apostolos Publishing Ltd., 2019.
Acting Out Your Christianity: An introduction to Luke-Acts. Faithbuilders Publishing, 2020.
The Book of Better Things: A Study on Hebrews. 24 devotional studies in Hebrews. Faithbuilders Publishing, 2022.
Psalms for Life: 12 short studies in the Psalms. Wopf and Stock, 2019.
Pottenger, Andrew
Power and Rhetoric in the Ecclesiastical Correspondence of Constantine the Great. Routledge, 2022.
Ricciardi, Matteo
A ecoteologia di Jürgen Moltmann: perspectivas de diálogo. São Paulo: Fonte Editorial, 2017. [Jürgen Moltmann's ecotheology: perspectives for dialogue]
Rinaldi, Giancarlo
Sulla libera grazia sulla predestinazione. Uomini Nuovi, 2019.
Avviamento allo studio della storia del movimento pentecostale Italiano. Uomini Nuovi, 2019.
Pagine indigeste dell'Antico Testamento. Independently published, 2018.
La Sanctificazione in Wesley come tema ecumenico. Editrice Carocci, 2016..
John Wesley e le buone opere. Edizioni Carocci, 2019.
2023 Student Enrolment Headcount: 342 (515 active student Headcount)
Faculty: 152
Countries being served (27): Albania, Kosova, Macedonia, Jordan, Lebanon, the Holy Land, Armenia, Bulgaria, Kazakhstan, Croatia, France, Germany, Switzerland, Hungary, Italy, the Netherlands, Portugal, Romania, Russia, Spain, Ukraine, Moldova, Poland. * some country names withheld for security reasons.
Eurasia Fields being served: 5 [Western Mediterranean Field, Northern Europe Field, Central Europe Field, Eurasia North Field, Eastern Mediterranean Field]
Districts being served (20): Albania-Kosova District P1,, Armenia District P1, Bulgaria P1, Croatia (Pioneer Area), Italy District P1, France District P1, Germany District P3, Jordan District P2, Hungary District P1, Lebanon District P1, Portugal District P2, Romania District P1, Russia North District / Moscow, Russia South District / Volgograd P1, Scandinavia District P1, Spain District P1, Syria District P1, The Holy Land/Israel District P1, The Netherlands District P3, Ukraine-Moldova District P1. * some district names withheld for security reasons
NOTE: P1 = Phase 1, P2 = Phase 2, P3 = Phase 3 in terms of district designations.
Albania/Kosova, Arabic, Armenia, Bulgaria, Central Asia, Croatia, Digital Campus, France, Germany, Hungary, Italy, the Netherlands, Portugal, Romania, Russia, Spain, Ukraine/Moldova.
The official business language of the college is UK English.  Our learning centres offer programmes in the following languages: Albanian, Armenian, Arabic, Bulgarian, Dutch, English, French, German, Hungarian, Italian, Romanian, Russian, Spanish, and Portuguese. Student native languages encompass more than these including: Croatian, Kazakh, Kyrgyz, Ukrainian, Serbian.
Our main website can be located at https://www.eunc.edu. From the map you can access the websites of the various learning centres, mostly in the language of their centres. They can be accessed directly as well (ex. https://digitalcampus.eunc.edu). There are links in the footer of the website as well to get to each one.
If you are interested in becoming a studnet in one of our centres, click on the link for that location. If you are interested in doing courses in English, online, you can go to the EuNC Digital Campus page or email the coordinator at digitalcampus@eunc.edu